Goldcrest
Farm Trust Advisors
Professional Farmland Investors
Goldcrest Farm Trust Advisors ("GFTA") is a farmland investment management company with decades of experience building and developing farmland investment portfolios across the United States. GFTA manages Goldcrest Farm Trust REIT ("GFTR"), a privately held farmland real estate investment trust with over $600mm in long-term capital. GFTA is dedicated to the highest level of professionalism and ethics, and shares the values of the farming community.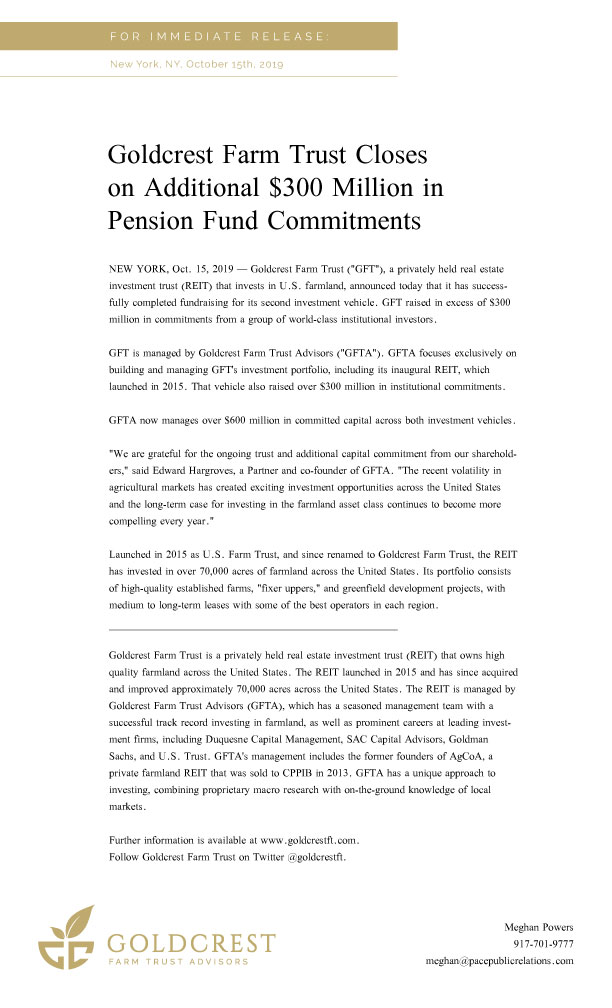 October 15, 2019
Goldcrest Farm Trust Closes on Additional $300 Million in Pension Fund Commitments
NEW YORK, Oct. 15, 2019 – Goldcrest Farm Trust ("GFT"), a privately held real estate investment trust (REIT) that invests in U.S. farmland, announced today that it has successfully completed fundraising for its second investment vehicle. GFT raised in excess of $300 million in commitments from a group of world-class institutional investors.